Course details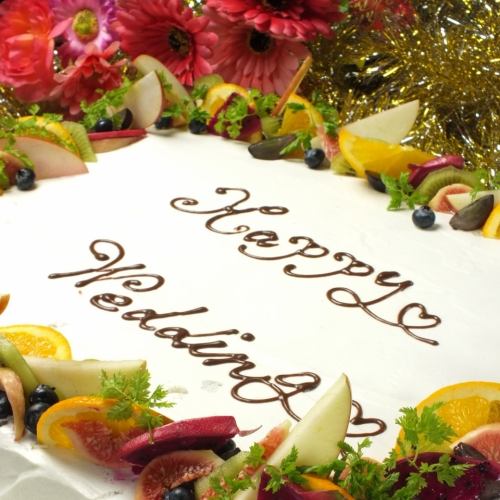 【10 with bonus】 Wedding 2nd Association course 120 minutes with all you can drink 4000 → 3000 yen ※ Sunday is extended to all you can drink for 180 minutes!
By using a coupon3000 yen
4000 yen ⇒ 3000 yen
8items

20

-

70persons

All-you-can-drink available

Full of cocktails! All you can drink menu over 70 types.[1] It is possible to change barley to premoles at + 500 yen [2] You can make all-you-can-drink worldwide at +300 yen [3] Change barley to premoles at + 600 yen & Change world wine drinks
Course with unlimited drinks of Western-style creative cuisine that is perfect for secondary meeting of wedding.Party cuisine is popular for people who want to enjoy with little casual buffet style without shoulder elbow! A great plan was made with perfect benefits for parties!
Course menu
【Buffet Content】
· Several appetizers of today with daily change
· Fresh fish carpaccio
· Various salad bars of seasonal vegetables
· Today's meat dish
· Today's fish dishes
· Chef's whimpest pasta
· Today's rice (risotto · paella etc.)
· Wedding Cake
【The secretariat's must-see benefit is here!】 ※ Meeting & store preview OK
■ Welcome boat creation
■ CD & DVD playback
■ Wireless microphone loan
■ Cheki main body lending OK
■ Waiting room for bride and groom with more than 50 people
■ Venue arrange · Decoration OK
■ Luggage storage OK
■ Lending utensils OK
■ Projector available / Screen equipped
■ Bingo game loan / offer of bingo cards OK
Gift keeping OK
■ Cake cut support / (Champagne tower OK at + 3000 yen)
Smoking and non-smoking are also possible.
· Preparation of 3rd session pack plan
※ The dish content is preliminary consultation at meetings and meetings OK! Consultations such as guests and bad grooming girls are welcome.
● About cancellation fee
※ In case of cancellation / number of people change, please be sure to contact "by phone".※ 50% cancellation 3 days before, 100% cancellation fee will be charged on the day.
Please cancel the cancellation fee for changing the number of guests.
All-you-can-drink menu
·beer
· Beer 【via cocktail】 Chandigafu / Via Cola
· Shochu
· 【Shochu】 (potato) starch potato / Black Kirishima · (wheat) peppermint · awamori ※ split is rock or water split or hot water split
·Plum wine
· Plum wine made in Shirakiga · Red plum wine · Okinawa made brown sugar plum wine · Tokushima yuzu plum wine · honey plum wine
·Highball
· Super carbonic acid beam high ball / citrus high ball (lemon · orange · grapefruit)
·Lemon sour
· Lemon Sour / Lemon Cola Sour / Lemon Ginger Sour
· Wine cocktail
· Kalimocho (red wine + cola) / Kitty (Red wine + Ginger ale) / Cardinal (Red wine + Cassis) / Splitzer (White wine + Carbonate) / Operator (White wine + Ginger ale) / Keele (White wine + Cassis)
·wine
· Glass wine (red · white)
·sangria
· Home-made sangria (red · white)
·Cocktail
· Cassis (Black) / Peach (Peach) / Franboise (Woodgrub) / Kalua (Coffee) / Granty (Matcha) / Gin Tonic / Moscow Mule
· Non-Allow · Cocktail
Saratoga cooler (ginger ale + lime) / peach orange (peach juice + orange juice) / tea soda lemon (ice tea + soda + lemon) / Russian heart (ginger ale + grapefruit juice)
·Soft drink
· Oolong tea · Ginger ale · Orange juice · Ice coffee · Ice tea · cola
Reservation deadline

Until 15 o'clock on the desired date of visit
Available days for reservation

Monday - Sunday - Public holidays - Holidays
2019/01/06 update