DETAIL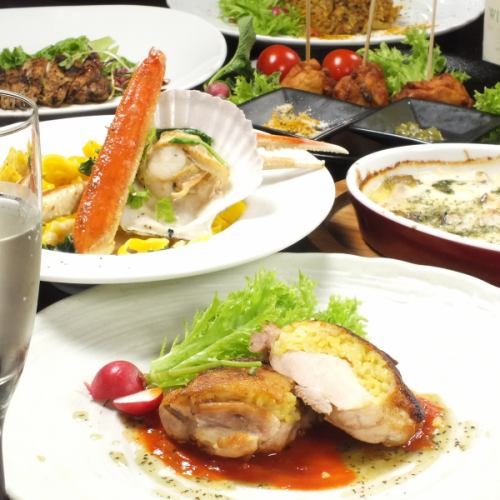 ※ For April only 120 minutes ★ Eating and drinking All you can 3500 yen ⇒ Female 2580 yen / Men ⇒ 3000 yen ♪
By using a coupon2580 yen
Men is 3000 yen ※ Lunch can not be used ※ It is the price until the end of April.
50items

2

~

70persons

All-you-can-drink available

Full of cocktails! All you can drink menu over 70 types.[1] It is possible to change barley to premoles at + 500 yen [2] You can make all-you-can-drink worldwide at +300 yen [3] Change barley to premoles at + 600 yen & Change world wine drinks
2 hours' free time plan that you can enjoy with all-you-can-eat drinks all-you-can-eat plan ♪ Cooking content is also full of 50 product abnormalities, the season's menu changes every season!
Menu
- ☆ a little plus and gorgeous to eat all you can eat ☆ -
★ + 0 yen ... Hall cake present with a message ★ ※ reservation required before the previous day
★ + 300 yen ... All you can eat raw ham ★
★ + 300 yen ... with steak with assorted ★
★ + 500 yen ... All you can drink beer ★
-----------------------------------------
【Recommended menu】
Broiled fresh fish and baked eggplant / cream sauce of oyster and tree child pasta
Chicken meatballs Takkarubi Tailoring / Bacon and Matsutake Olive Pasta
Dome pizza / Japanese style pasta / Kaito fried shrimp / Japanese cheese rice / Vegetable gratin of big clams
Kaito fried shrimp and Japanese style risotto of a tree child / Recommended cake of the day / Recommended ice of the day
[Appetizer]
Today's fresh fish carpaccio / smoked salmon avocado salad / pork herbs bread crumbs fried
Salmon and Avocado Canapé / Prawn and mushroom Ahijo / duck roast garlic oil baked
Various vegetables cold Bagna cowder / Broiled cheese / raw ham carpaccio / today's smoked sheng
【salad】
Caesar salad with raw ham and hot spring egg / cattle pastastur's wasabi cream salad
Salad with seasonal vegetables and baked bacon / Rare steak with tuna tuna / Today's spoon sushi
Braised chicken and vegetable consomme / Hot Cajun flavor of beef and vegetables
【Thermal matter】
Sweet wings chicken wings / garlic toast / pie pack of chicken and tree child / boiled beef stew and vegetable demi miso stew
Mentaiko Toast / Salt-grilled Butter / Sweet Potato Honey Butter Sauce
【tortilla】
Meat Miso Tomato Cheese Grilled Tortilla / Garlic Chicken and Vegetable Salsa Winding Tortilla
【Fried food】
Pork spice fried / Chicken frit Buffalo sauce / French fries / Camembert flies
【Pasta · paella】
Salmon and spinach with tomato cream pasta / crab and clams tomato sauce pasta
Cream pasta of clams and komatsuna / Japanese pasta of Confucius and Hiroshima greens / cream pasta of Kyoto ball mentaiko
Gnocchi's gratin / crab and mushroom cream risotto / seafood paella / commitment egg carbonara
Potato eggs omaka sauce
【dessert】
Vanilla ice / green tea ice / blueberry cheese cake ice / cookie cream ice / tiramisu
Flamboire rare cheese / brownie / tea's chiffon cake / cream brulee
Hokkaido cream cheese ice / double berry cake / donut cake
All-you-can-drink menu
·beer
· Beer 【via cocktail】 Chandigafu / Via Cola
Shochu
· 【Shochu】 (potato) starch potato / Black Kirishima · (wheat) peppermint · awamori ※ split is rock or water split or hot water split
·plum wine
· Plum wine made in Shirakiga · Red plum wine · Okinawa made brown sugar plum wine · Tokushima yuzu plum wine · honey plum wine
·Highball
· Super carbonic acid beam high ball / citrus high ball (lemon · orange · grapefruit)
Lemon sour
· Lemon Sour / Lemon Cola Sour / Lemon Ginger Sour
Wine Cocktail
· Kalimocho (red wine + cola) / Kitty (Red wine + Ginger ale) / Cardinal (Red wine + Cassis) / Splitzer (White wine + Carbonate) / Operator (White wine + Ginger ale) / Keele (White wine + Cassis)
·wine
- Glass of wine (red and white)
·sangria
· Homemade sangria (red · white)
·Cocktail
· Cassis (Black) / Peach (Peach) / Franboise (Woodgrub) / Kalua (Coffee) / Granty (Matcha) / Gin Tonic / Moscow Mule
· Non'aru cocktail
Saratoga cooler (ginger ale + lime) / peach orange (peach juice + orange juice) / tea soda lemon (ice tea + soda + lemon) / Russian heart (ginger ale + grapefruit juice)
·Soft drink
· Oolong tea · Ginger ale · Orange juice · Ice coffee · Ice tea · cola

Reservation deadline

Coming to the store until the desired date of the day 22
Coupon that can be used
For a birthday or a celebration ... ♪ ♪
Presentation of a hall cake with a message ★

Presentation conditions

At the time of booking

Conditions of use

Reservation required / Up to 2 people / ※ Cake not available for lunch ★ Night option ★ + 0 yen cake / + 300 yen raw ham diet / steak Sheng / + 500 yen draft beer drink ※ option is not available for lunch

Expiration date

Until the end of April 2018

All you can drink eat
120 minutes ★ 3500 yen ⇒ Female 2580 yen / Male 3000 yen
180 minutes ★ 4000 yen ⇒ women 2980 yen / male 3480 yen

Presentation conditions

Present at time of reservation & at the time of reservation Applying & presenting when entering the store

Conditions of use

Other tickets can not be used together / on the day OK / 2 people ~ ※ Weekends only 90 minutes eating and drinking all-you-can-eat as well! Eat lunch unavailable 【May 1 ~ price will be changed】

Expiration date

April 30, 2018
2018/04/18 update