Course details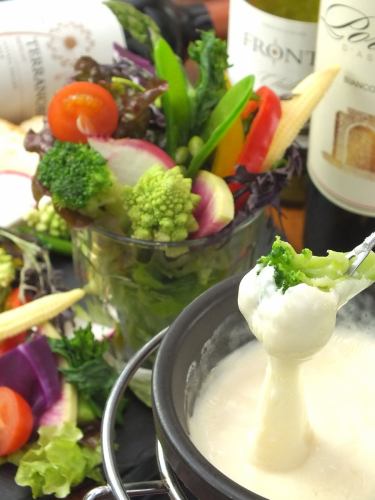 With cheese fondue 【Girls' Association course】 180 minutes All you can drink & 90 minutes Dessert All you can eat with 4000 yen ⇒ 3500 yen
By using a coupon3500 yen
4000 yen ⇒ 3500 yen ※ Not available for lunch
9items

2

-

70persons

All-you-can-drink available

Full of cocktails! All you can drink menu over 70 types.[1] It is possible to change barley to premoles at + 500 yen [2] You can make all-you-can-drink worldwide at +300 yen [3] Change barley to premoles at + 600 yen & Change world wine drinks
All-you-can-drink for 3 hours and all-you-can-eat dessert for 90 minutes, courses for girls' societies where menus of other interests are available.
Course menu
One case
● Jewel salad
● fresh fish carpaccio
● Cheese fondue of seasonal vegetables
● Marinated frit of red fish
● Duck smoked seasonal vegetables Pizza
● Demigrass simmered flame of pork loin!
● Roast Beef Potato Gratin Floral Tailoring
Shrimp and mushroom tomato cream pasta
★ All you can eat dessert
※ There is a case of contents change in the purchase situation.
All-you-can-drink menu
·beer
· Beer 【via cocktail】 Chandigafu / Via Cola
· Shochu
· 【Shochu】 (potato) starch potato / Black Kirishima · (wheat) peppermint · awamori ※ split is rock or water split or hot water split
·Plum wine
· Plum wine made in Shirakiga · Red plum wine · Okinawa made brown sugar plum wine · Tokushima yuzu plum wine · honey plum wine
·Highball
· Super carbonic acid beam high ball / citrus high ball (lemon · orange · grapefruit)
·Lemon sour
· Lemon Sour / Lemon Cola Sour / Lemon Ginger Sour
· Wine cocktail
· Kalimocho (red wine + cola) / Kitty (Red wine + Ginger ale) / Cardinal (Red wine + Cassis) / Splitzer (White wine + Carbonate) / Operator (White wine + Ginger ale) / Keele (White wine + Cassis)
·wine
· Glass wine (red · white)
·sangria
· Home-made sangria (red · white)
·Cocktail
· Cassis (Black) / Peach (Peach) / Franboise (Woodgrub) / Kalua (Coffee) / Granty (Matcha) / Gin Tonic / Moscow Mule
· Non-Allow · Cocktail
Saratoga cooler (ginger ale + lime) / peach orange (peach juice + orange juice) / tea soda lemon (ice tea + soda + lemon) / Russian heart (ginger ale + grapefruit juice)
·Soft drink
· Oolong tea · Ginger ale · Orange juice · Ice coffee · Ice tea · cola
Reservation deadline

Until 17 o'clock the day before the desired store visit
Available days for reservation

Monday - Sunday - Public holidays - Holidays
2018/12/11 update